Categories
Archives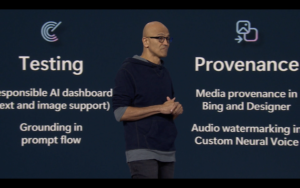 Following the recent announcements of Google's signalling of generative AI content and Midjourney and Shutterstock the day after, Microsoft has now announced that it will also be signalling the provenance of content created by Microsoft's generative AI tools such as Bing Image Creator.
Microsoft's efforts go one step beyond those of Google and Midjourney, because they are adding the image metadata in a way that can be verified using digital certificates. This means that not only is the signal added to the image metadata, but verifiable information is added on who added the metadata and when.
As TechCrunch puts it, "Using cryptographic methods, the capabilities, scheduled to roll out in the coming months, will mark and sign AI-generated content with metadata about the origin of the image or video."
The system uses the specification created by the Coalition for Content Provenance and Authenticity. a joint project of Project Origin and the Content Authenticity Initiative.
The 1.3 version of the C2PA Specification specifies how a C2PA Action can be used to signal provenance of Generative AI content. This uses the IPTC DigitalSourceType vocabulary – the same vocabulary used by the Google and Midjourney implementations.
This follows IPTC's guidance on how to use the DigitalSourceType property, published earlier this month.