Categories
Archives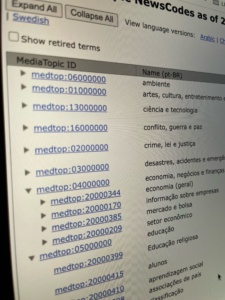 Following on with our quarterly update cycle, the IPTC NewsCodes Working Group has released the Q2 2022 update of IPTC NewsCodes, including updates to the Media Topic, Subject Code, and Digital Source Type vocabularies.
Media Topic updates
In a related tool update announcement, we have now added a handy "show retired terms" checkbox to the Media Topics interactive tree browser tool, and we default to only showing the active (non-retired) terms. The new option can be seen in the picture at the top of this article.
Digital Source Type vocabulary updates
After asking for feedback on a draft of the work a few months ago, we have updated the Digital Source Type vocabulary to support the emerging area of "Synthetic Media."
The single term "softwareImage" has been retired, which means that while it is acceptable in legacy content, we no longer recommend its use. The term is now replaced with 9 new terms covering the spectrum from purely human creation through to purely machine image creation:
To see more detail including the definition of each term, click the links above or view the entire IPTC Digital Source Type vocabulary.
Thanks to those both inside and outside of the IPTC community who gave feedback on our original proposal, your comments were very much appreciated.
Subject Code vocabulary updates – indicating its deprecated status
The IPTC Subject Code vocabulary was created over twenty years ago, in the year 2000. It was maintained through to 2010, but at that point the Media Topic vocabulary took over as IPTC's preferred subject classification taxonomy. We will keep it on our vocabulary server, but we no longer recommend its use in projects due to some terms being out of date.
So we have put warnings on the pages of the Subject Code vocabulary that indicate its deprecated nature, and encourage users to look at Media Topic instead.
As always, the Media Topics vocabularies can be viewed in the following ways:
For more information on IPTC NewsCodes in general, please see the IPTC NewsCodes Guidelines.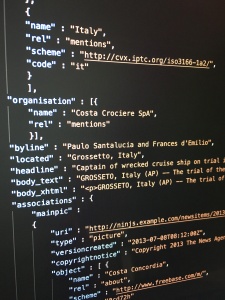 At the IPTC Spring Meeting in May 2022, IPTC's Standards Committee voted to approve ninjs 1.4, the latest version in the 1.x track of IPTC's standard for news content in the JSON format.
Johan Lindgren of TT Nyhetsbyrån, Lead of the IPTC News in JSON Working Group, said:
"After the launch of ninjs 2.0 in the autumn of 2021, we received requests to add some of the new 2.0 features to the first generation of ninjs, so that those who are using the 1.x branch of ninjs can use the new features without making breaking changes. So we are excited to publish version 1.4 of ninjs, where these features are included."
Those changes include:
New property contentcreated, denoting the date and time when the content of this ninjs object was originally created (as opposed to the date and time when the ninjs object itself was created). For example, an old photo that is now handled as a ninjs object may have a firstcreated and versioncreated of "2022-06-02T12:00:00+00:00", but a contentcreated value of "1933-04-03T00:00:00+00:00". The contents must be a valid JSON Schema date-time object.
New property expires, showing "the date and time after which the Item is no longer considered editorially relevant by its provider." Note that this is not the same as a rights-related expiration, it simply conveys the desire of the content creator to highlight the content until a certain time. A good example might be a football match preview, which would no longer be editorially relevant after the game commences. The contents must be a valid JSON Schema date-time object.
New property rightsinfo, which holds an expression of rights to be applied to the content. It contains sub-properties langid (a URI which specifies the language used to specify rights such as RightsML or ODRL), and one of either linkedrights (containing a link to a remotely-hosted declaration of the rights associated with the content) or encodedrights (which includes an embedded encoding of the rights statements within the ninjs object).
Which version of ninjs should I choose for my project?
There might be some confusion since we have released ninjs 1.4 after the release of ninjs 2.0. Please note that this is simply an update to the 1.x branch of ninjs to make it easier for users who cannot upgrade to 2.x branch due to breaking changes.
If you are starting a new project that requires JSON-encoded news content, we recommend using ninjs 2.0. This version should be easiest for developers to work with.
If you are already using a 1.x version of ninjs, we recommend at least upgrading to version 1.4. This should be an easy change, because 1.4 is backwards-compatible with versions 1.0, 1.1, 1.2 and 1.3. We would also recommend upgrading to 2.0 if possible, but if not, 1.4 is the best version of the 1.x branch.
Supporting materials for ninjs 1.4 and ninjs 2.0 can be found at these locations:
Thanks to Johan and the IPTC News in JSON Working Group for working on this release.