Categories
Archives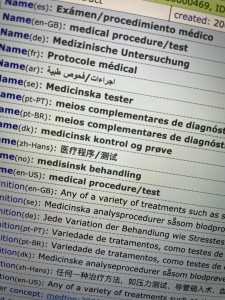 We have just released the Q3 update to Media Topics, IPTC's subject taxonomy used for classifying news content.
Most were changes to the education branch, following our regular review cycle. We also added some missing Norwegian translations (thanks to Tor Kristian Flage at NTB) and fixed some incorrect Wikidata mappings.
The changes are listed below. All changes are in both en-GB and en-US versions unless otherwise noted.
New terms:
Label changes:
Definition changes:
Hierarchy change (in addition to those listed above):
Retired terms:
As usual, the Media Topics vocabularies can be viewed in the following ways:
For more information on IPTC NewsCodes in general, please see the IPTC NewsCodes Guidelines.
Next Tuesday, IPTC will be part of a panel of guests speaking at a webinar hosted by CEPIC (the Coordination of European Picture Agencies – Stock, Press and Heritage) and EANA (the European Alliance of News Agencies).

Brendan Quinn, Managing Director of IPTC will be joining the webinar to talk about IPTC's involvement in C2PA, the Coalition for Content Provenance and Authenticity, in particular the draft technical specification which was released this month. Brendan will be talking about how C2PA aims to solve part of the problem around news provenance, informing users when news comes from a reputable source.
The other speakers are Mathieu Desoubeaux from IMATAG, Stefan Voss, Verification Officer at dpa, and Yacine Le Forestier, Head of Europe fact checking at AFP.
The other speakers are all from IPTC member organisations, and IPTC shares many members with both CEPIC and EANA, so we are very happy to take part in this event.
Registration for the event is still available. The webinar will take place on Tuesday 21 September from 1700 to 1800 CET, but is open before and after for attendee networking and discussion.
As previously announced, the IPTC are participating in the Coalition for Content Provenance and Authenticity (C2PA) project to create a specification to tackle online disinformation and misinformation.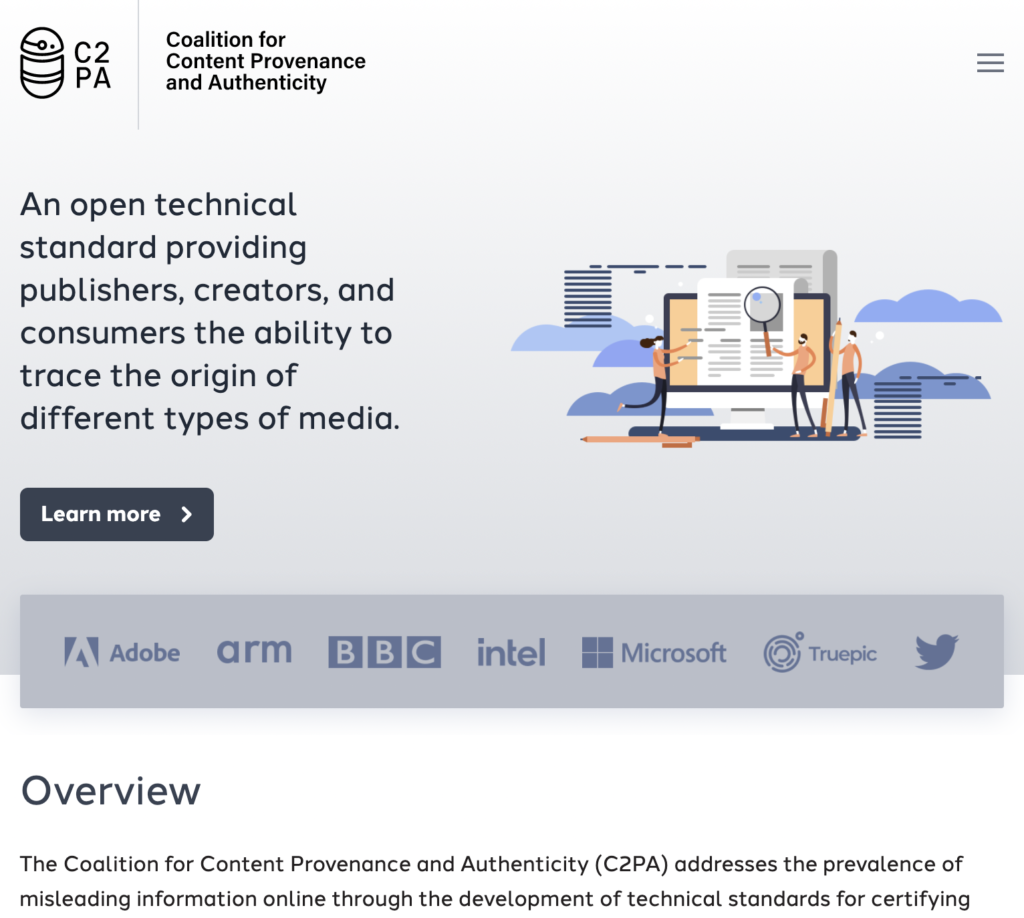 After months of work by the C2PA Technical Working Group, the first public draft of the specification has been released. In particular, the spec defines how properties from the IPTC Photo Metadata Standard can be included in a C2PA manifest, creating a provenance trail that allows future viewers to validate the authenticity of a claim associated with a media asset (such as the location the photo was taken, the creator's name or who is the person in a photo).
The full press release from C2PA follows:
SAN FRANCISCO, Calif. — September 1, 2021 — Today, the Coalition for Content Provenance and Authenticity (C2PA), a Joint Development Foundation project established to scale trust in online content, released its content provenance specifications – in draft form – for community review and feedback. Driven by a commitment to tackle online disinformation, the C2PA's technical specifications are designed to be an open standard that will allow publishers, creators and consumers to trace the origin and evolution of a piece of media, including images, videos, audio and documents.
"C2PA was established to accelerate progress toward the broad adoption of content provenance standards that will enable a future of verifiable integrity in media," said Andrew Jenks, C2PA Chair. "The release of this draft is an exciting and important milestone, representing a diverse and collaborative effort across industries to protect people from fabricated and manipulated media and drive transparency in the origin and history of content."
Combatting online content fraud at scale requires transparency and an accessible and open approach that enables consumers to make informed decisions about what has been modified and what has not. The C2PA was launched in February 2021 with founding members Adobe, Arm, BBC, Intel, Microsoft and Truepic with the goal of developing an end-to-end open technical standard to address the rise of disinformation efforts leveraging tools for media fabrication and manipulations. The effort has expanded, bringing in additional members including Twitter, WITNESS, Akamai and Fastly.

Over the past six months, the C2PA has worked with industry experts and partner organizations, including the Project Origin Alliance and the Content Authenticity Initiative (CAI), to develop a standard for digital provenance that provides platforms with a method to define descriptive metadata, what information is associated with each type of asset, how that information is presented and stored, and how evidence of tampering can be identified. This group of contributors spans a spectrum of industries including social media, news publishing, software technology, semiconductors and more. All have contributed to building these new technical specifications through a process of gathering requirements, considerations of scenarios and technical design.
Following the review period, the C2PA working groups will finalize the 1.0 version of the technical standards and once published, the group will pursue adoption, prototyping and communication through coalition members and other external stakeholders, providing the foundation for a system of verifiable provenance on the internet.
"The power of C2PA's open standard will rely on its broad adoption by producers and custodians of content, which makes this review phase so critical to the development and finalization of the specifications," said Jenks. "This is why we are making the draft specification available to the public. We encourage rigorous review and feedback across industries, civil society, academia, and the general public to ensure the C2PA standards reflect the complex nature of this effort."
The draft specification can be accessed through the C2PA website, and comments will be accepted through a web submission form and GitHub until November 30, 2021.
C2PA is accepting new members. To join, visit https://c2pa.org/membership/.
About C2PA
The Coalition for Content Provenance and Authenticity (C2PA) is an open, technical standards body addressing the prevalence of misleading information online through the development of technical standards for certifying the source and history (or provenance) of media content. C2PA is a Joint Development Foundation project, formed through an alliance between Adobe, Arm, BBC, Intel, Microsoft and Truepic. For more information, visit c2pa.org.