Theme: Trust and Credibility in the Media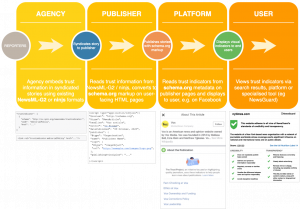 How can metadata and content modelling help with the problems of trust in the media, misinformation, disinformation and "fake news"?
Detecting fake and manipulated content is important, and we do feature companies that work in this area. However most of our ongoing effort is not about detecting what is fake, but rather enabling consumers to verify that the news they are seeing genuinely comes from the people they think it does. We refer to this as "trusted provenance."
We have been working with many groups in this area: The Trust Project, Trusted News Initiative from Reporters sans Frontiers, Content Authenticity Initiative, Coalition for Content Authenticity and Provenance (C2PA), JournalList and others.
We actively participate in C2PA and contributed the sections of the specification that allow Exif tags and IPTC Photo and Video Metadata properties to be embedded in a verifiable way in C2PA-enabled media.
Support for Trust and Credibility in IPTC Standards
In 2019 and 2020, we added fields to ninjs, our standard for news in JSON, to accommodate trust signals such as those from The Trust Project and the Journalism Trust Initiative. We also ensured that NewsML-G2 can already accommodate them, but no changes to the standard were necessary.
We are creating a set of guidelines, "Trust and Credibility in IPTC Standards" where we show how to implement trust signals and trusted provenance using IPTC standards. The current draft is available on our std-dev site at http://iptc.org/std-dev/guidelines/trust/ . We will soon be publishing a 1.0 version of these guidelines.
Recent content on Trust and Credibility in the Media
November 2022: Panel on trust and credibility at the 2022 IPTC Photo Metadata Conference 

Use of C2PA in real-world workflows: a session demonstrating progress made in implementing C2PA technology to make images and video tamper-evident and to establish a provenance trail for creative works. Featuring Nigel Earnshaw and Charlie Halford, BBC; Jay Li, Microsoft; David Beaulieu and Jonathan Dupras, CBC/Radio Canada and Gavin Peacock (Principal Scientist) and Pia Blumenthal (lead product designer), Content Authenticity Initiative / Adobe