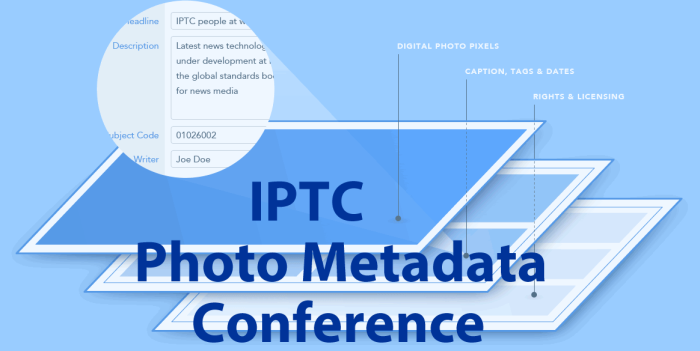 Keep Metadata Alive and Intact
Thursday, 26 May 2016
Zagreb (Croatia)
 Metadata is of high value for many parties in the photo business: photographers, libraries, agencies, archives. But many consider this only in a very limited context, not across many transitions in a supply chain or for a longer period.
This conference addressed how to avoid losing information when images are moved from one person or system to the next one or if they are kept in an archive for a long term.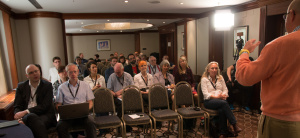 If available you can download the shown slides as PDF

and/or the audio recording 

of a presentation.
Morning Session
Opening by Alfonso Gutierrez, President of CEPIC
Protecting Metadata While Using Social Media
Presentation of the IPTC Social Media Photo Metadata Test 2016 which shows that metadata might get stripped off
Presentation of companies and a photographer association about how they aim at protecing metadata and how they use Social Media by Michael Steidl, Managing Director IPTC – (11 min)
Speakers:
– Lynne Bryant, Director, Arcaid Images –  (10 min) (Conversation with Sarah Saunders)
– Richard Buckler, VP Global Sales, Operation Director EMEA of Mainstream Data/Newscom – (9 min)
– Dave Compton, Information Architect at Thomson Reuters – including Reuters Pictures – (12 min)
Michele Curel, president of AFPE, Association of Professional Photographers in Spain – (10 min)
Moderator: Gene Mopsik (PLUS Coalition)
Strongly Attached Metadata, what you need to know
Presentations by people from photo businesses, system vendors and a university how to apply and organize metadata in an efficient way and how to keep them alive in distribution chains.
Speakers:
– Matthew Carse: The role of automated tagging. Founder and CEO of London based IDS.
– Abbie Enock: Image metadata for licensing workflows. Founder and CEO of Capture DAM. – (19 min)
– David Larsen: Embedded metadata for DAM and security. Runs africa media online. – (A Prezi presentation in a ZIP file) (14 min)
– Edward Pinsent: Digital Preservation for the image industry.  Senior Digital Archivist and Project Manager" at the University of London Computer Centre (ULCC) – (12 min)
Moderator: Sarah Saunders (CEPIC, ElectricLane)
Afternoon Sessions

IPTC Video Metadata Hub
The Photo Metadata Conference 2014 discussed video metadata and IPTC said actions will be taken. Now IPTC is happy to present a very final draft of its Video Metadata Hub, metadata which can be used across many existings video standards. Come and join and learn more about a simple and efficient approach to video metadata. (Presentation by Michael Steidl) –

Cultural Heritage Photo Metadata Panel
Presentation by Sarah Saunders of a special metadata panel for Adobe software which supports a rich set of metadata for cultural heritage objects shown by a photo. The panel can be downloaded for free and installed on a computer.
The Metadata Conference was part of the programme of the CEPIC Congress.
Previous Conferences
The IPTC Photo Metadata Conference is held since 2007 – find out what was presented and discussed at previous meetings.
About the Speakers
Lynne Bryant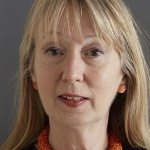 My introduction to the picture business was accidental.
A neighbour was a picture researcher, a profession previously unknown to me. She suggested I make some pictures taken by Richard, my architectural photographer husband, available to her for a her book project.
The seed of a photo agency was planted.
Arcaid Images now has over 230 global individual contributors and represents several national and international collections all focusing on the built world.
We've had to negotiate many challenges within this industry and I've always engaged with change. I worked with the BAPLA board for many years including being the Chairman.
Richard Buckler
Richard Buckler is Vice President of MediaServices Global Sales and Director of International Operations of Mainstream Data where he is responsible for strategic sales of the communications and cloud services company.
Founded in 1985 Mainstream provides software applications and mission critical services for the world's premier information companies including Bloomberg, Reuters, Technicolor Digital Cinema, the European Pressphoto Agency, Agencia EFE (Spain), Deutsche Presse-Agentur (Germany), and Maxppp (France).
Matthew Carse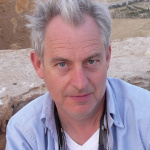 Matthew Carse is the founder and CEO of London based IDS. Having spent 20 years working in the world of digital imaging, Matthew has created a powerful asset portal in IDS PictureDesk, used by photo agencies and publishers, in UK, USA and Europe, to manage their own and third party content.
Matthew has a particular interest in machine based image recognition. IDS has recently deployed proprietary systems using Artificial Intelligence to identify not only where and how images are used, but to recognise content within images, and use that to generate meta-data. IDS's systems allow automatic billing and reporting direct from scans, PDFs, web or social media, and allow brand owners to identify the reach of their marketing campaigns.
Dave Compton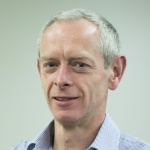 Information Architect, News Platform, Thomson Reuters, UK
Dave has worked in News and Media at Thomson Reuters since 1998. He has held various technical design, development and architectural roles across multimedia content acquisition, normalisation and transformation, focusing on content metadata, rights and standardisation. Prior to that he worked in financial trading systems development, specialising in Reuters market data.
He is also a Director of the IPTC, where he leads the technical development of the NewsML-G2 standard and is actively involved in a number of related initiatives including content rights, photo/video metadata and linked data.
Michele Curel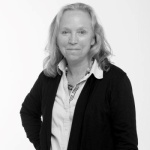 American freelance photographer for more than 30 years based in Barcelona, Spain specialized in architecture, interiors, hotel, portrait and travel photography working for clients in Europe, Africa, Middle East and United States in the luxury hotel industry, architecture as well as in the past prestegious U.S. Publications:  Newsweek, The New York Times, Sports ilustrated, Business Week.  www.michelecurel.com
President of the Professional Photographers Association of Spain.
Abbie Enock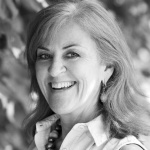 Back in the day Capture's CEO, Abbie Enock was an experienced journalist and a professional photographer, as well as an international photojournalist solo travelling all over the world – and in the late 90's she went on to start a very professional photo and feature agency.
Abbie soon realised that she needed a way to ingest, tag, manage, market and sell the growing number of images the business was attracting from contributors. Her solution was to learn how to code and write a pioneering platform that was launched on time on January 1st 2000.
Since then Abbie has headed up Capture which has become known as a leading content management specialist and service provider to some of the world's most famous brands. Capture – through Abbie's vision of team building and seeing technology in a very human way – is a leader in its field.
David Larsen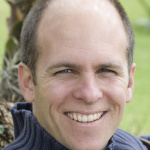 David Larsen is Managing Director of Africa Media Online. A journalist and photographer by trade David founded Africa Media Online in 2000. David's passion, to see Africans telling Africa's story to African and global audiences has led him to develop systems for the effective delivery of media content, develop training that ensures African media and heritage professionals are keeping up with global trends and standards, and develop markets for Africa's story. David has been invited to speak about these issues to influential gatherings in various parts of the world. He has also been involved in initiating a number of heritage and media related projects to further the vision of Africans telling Africa's story. In 2013 David was a judge in the 9th China International Press Photo Contest (CHIPP), from 2009-2011 he was a member of the World Press Photo Africa nominating committee for the Joop Swart Masterclass and in 2009 a judge in South Africa's Sony Profoto Awards.
Gene Mopsik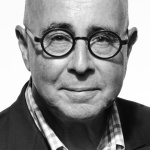 Eugene Mopsik has a long and distinguished record as an advocate for photographers and other visual artists and served as the Executive Director of the American Society of Media Photographers (ASMP) from 2003 to 2014. He is a passionate supporter of artists' rights, earning him a high level of respect from artists' organizations, publishers, industry partners, lawmakers and government agencies in the US and globally.
Gene serves on the boards of ASCRL (American Society for Collective Rights Licensing), The Fabric Workshop and Museum, the Copyright Alliance and the PLUS Coalition (Picture Licensing Universal System).
Edward Pinsent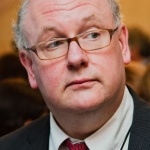 … is a Digital Archivist who has worked at University of London Computer Centre (ULCC) since 2004. He has a background as a traditional archivist and records manager working for the Church of England General Synod, The National Archives, and others. He is a tutor on the Digital Preservation Training Programme, and a former Board member of the Digital Preservation Coalition. He is part of the ULCC team offering consultancy in digital preservation, and has experience in web-archiving, repository management, metadata projects, migration, digitisation, policy design, and project management.
Sarah Saunders
Sarah Saunders is a consultant in image and data management, and an expert in scoping, procurement and implementation of Digital Asset Management (DAM) systems. She advises and trains clients on image management issues, including digital image quality and standards, image archiving, licensing sales, retrieval and metadata, keywording, automated image and metadata handling and controlled vocabulary creation. Sarah has been active in the stock image industry for over 20 years and is a member of the IPTC Photometadata Working Group. She is the author of the IPTC/CEPIC Photometadata Handbook and is actively involved in setting standards for embedded data transfer for the heritage sector as a founder member of the SCREM project.
Michael Steidl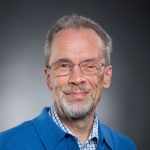 Managing Director of IPTC and Lead of the Photo Metadata workstream. IPTC develops and promotes efficient technical standards to improve the management and exchange of information between content providers, intermediaries and consumers.
Michael has 25 years of experience with information technology for news;  first as a consultant to news agencies and then joining IPTC in 2003. He also worked as a journalist and managing director for news agencies, this makes him experienced in the major facets of the news business. Michael is based in Vienna, Austria.