Categories
Archives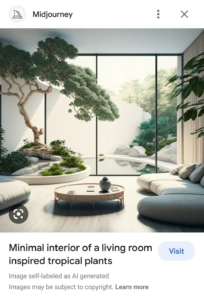 As a follow-up to yesterday's news on Google using IPTC metadata to mark AI-generated content we are happy to announce that generative AI tools from Midjourney and Shutterstock will both be adopting the same guidelines.
According to a post on Google's blog, Midjourney and Shutterstock will be using the same mechanism as Google – that is, using the IPTC "Digital Source Type" property to embed a marker that the content was created by a generative AI tool. Google will be detecting this metadata and using it to show a signal in search results that the content has been AI-generated.
A step towards implementing responsible practices for AI
We at IPTC are very excited to see this concrete implementation of our guidance on metadata for synthetic media.
We also see it as a real-world implementation of the guidelines on Responsible Practices for Synthetic Media from the Partnership on AI, and of the AI Ethical Guidelines for the Re-Use and Production of Visual Content from CEPIC, the alliance of European picture agencies. Both of these best practice guidelines emphasise the need for transparency in declaring content that was created using AI tools.
The phrase from the CEPIC transparency guidelines is "Inform users that the media or content is synthetic, through
labelling or cryptographic means, when the media created includes synthetic elements."
The equivalent recommendation from the Partnership on AI guidelines is called indirect disclosure:
"Indirect disclosure is embedded and includes, but is not limited to, applying cryptographic provenance to synthetic outputs (such as the C2PA standard), applying traceable elements to training data and outputs, synthetic media file metadata, synthetic media pixel composition, and single-frame disclosure statements in videos"
Here is a simple, concrete way of implementing these disclosure / transparency guidelines using existing metadata standards.
Moving towards a provenance ecosystem
IPTC is also involved in efforts to embed transparency and provenance metadata in a way that can be protected using cryptography: C2PA, the Content Authenticity Initiative, and Project Origin.
C2PA provides a way of declaring the same "Digital Source Type" information in a more robust way, that can provide mechanisms to retrieve metadata even after the image was manipulated or after the metadata was stripped from the file.
However implementing C2PA technology is more complicated, and involves obtaining and managing digital certificates, among other things. Also C2PA technology has not been implemented by platforms or search engines on the display side.
In the short term, AI content creation systems can use this simple mechanism to add disclosure information to their content.
The IPTC is happy to help any other parties to implement these metadata signals: please contact IPTC via the Contact Us form.