Categories
Archives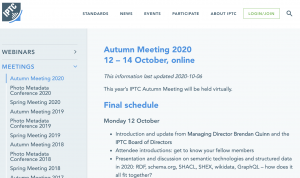 The IPTC Autumn Meeting 2020 will take place next week, from Monday 12 October to Wednesday 14 October. The meeting will be held online using the Zoom platform, as we did for the IPTC Spring Meeting in May.
Over 30 IPTC member organisations will be represented, with more still finalising their attendance.
Presentations will range from Working Group updates and our 2020 Annual General Meeting to presentations from invited startups, discussions on IPTC participation in industry projects, and exciting presentations from members on relevant projects within their companies.
The IPTC Photo Metadata Conference 2020 is "co-located" with the IPTC Autumn Meeting – so we will be moving from the member meeting to the Photo Metadata Conference on the Tuesday afternoon.
Attendance is free for IPTC members. If you are not already registered, please go to the Members-Only event page to register.