Categories
Archives
IPTC Managing Director Brendan Quinn spoke at the FIBEP World Media Intelligence Congress 2020 on Wednesday 18th November.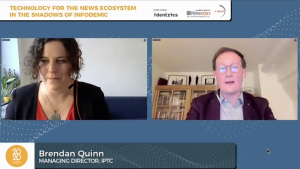 FIBEP is the industry body for the "media intelligence" industry, including media monitoring, public relations and marketing organisations.
FIBEP was founded over 65 years ago (so it is even older than IPTC!) and the FIBEP World Media Intelligence Congress has become one of the largest events for communications, public relations, technology, social media monitoring and marketing professionals alike. It brings together communications professionals from around the world to share best practices, discuss industry developments and innovations, present the latest technology and network through a variety of presentations and panel discussions from industry leaders. So it is in many ways similar to IPTC for the technical side of the news industry.
This year's theme was Exploring and Expanding the Media Intelligence World and the program included a wide range of best practices and topics relevant for media intelligence and communication professionals including social media monitoring, privacy, and data integrity, copyright, the evolution of data consumption, measurement, PR trends, technological developments and future outlooks for communications and media intelligence industries.
Brendan was invited to speak about IPTC's view of the news ecosystem, particularly with a view to online misinformation and disinformation and how the news industry can work together to combat those problems. Brendan discussed IPTC's work on trust and credibility, including the content of the recent IPTC webinar on Trust and Credibility.
Questions from the media intelligence community included what individuals could do to avoid misinformation and spreading false news on social media. Brendan's advice to those who want to learn more about misinformation are in the table:
Thanks very much to FIBEP, especially Romina Gersuni, for inviting us to present. We realised during the preparations for the event that IPTC and FIBEP have a lot in common, so hopefully this will be the first of many collaborations between the two organisations!