Categories
Archives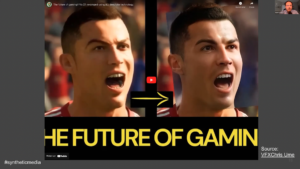 Where else can you hear about the difficulties of examining photo metadata in NFTs, see a lifelike image of a human being generated from pure data before your eyes, see how Wikidata can be used to take semantic fingerprints of news articles, and discover that an hour is nowhere near long enough to discuss simplifying machine-readable rights? Nowhere but the IPTC Meeting, of course! And this year's Spring Meeting was the venue for all of this and much more.
We held the meeting virtually from Monday May 16 to Wednesday May 18th, and attending were over 70 people from at least 45 organisations across more than 20 countries.
Along with our usual Working Group updates and committee meetings, we invited speakers from several fascinating startups, services and projects at member companies. Here's a quick summary of their sessions:
We heard from Kairntech who are working on a classification system based on extracting entities from news stories and building a "semantic fingerprint" which can be used for cross-language classification, search and content enhancement
The New York Times' R&D Lab presented PaperTrail, a project to enhance the quality of the Times' print archive through the use of machine learning to improve on basic OCR techniques (they're looking for collaborators, more info coming soon!)
Bria.ai showed us how an API can be used to enhance and create images and videos through the use of a custom GAN model trained in a "responsible AI" method
Margaret Warren talked us through her efforts in creating and selling an NFT, looking at the process view the perspective of a photo metadata expert
Consultant and author Henrik de Gyor talked us through the latest in synthetic media, which will be helpful in helping us to finalise our Digital Source Type vocabulary for synthetic media
Laurent Le Meur from EDRLab presented his project's recommendation on a Text and Data Mining Reservation Protocol, which can be used by publishers to restrict the rights of data miners in scraping any content for the purpose of analysis or building a model
We heard from Dominic Young of Axate on his approach to offer pay-as-you-go payment options on paywalled news sites based on a simple pre-paid wallet mechanism.
We also had many announcements and discussions around IPTC standards, many of which we will be revealing in the coming months. One notable update is that the Standards Committee approved ninjs version 1.4 which we will release soon.
Thanks to all the IPTC members, Working Group leads, committee members and guests who made this member meeting one to remember.